Conference Presentation Guidelines: Virtual and Physical Attendance
Dear Conference Participants,
We are thrilled to welcome you to the iSCSi 2023 at Radisson Hotel and Lusofona University, where we will explore cutting-edge research and innovative ideas in our field. Whether you will be attending physically or virtually, we have outlined important guidelines to ensure a seamless experience for everyone.
Physical Attendance:
For authors and guests attending in person, please follow these instructions:
Check-in Date and Time:
You can check in on the 4th of October, starting from 15:00.
Visit the -2 floor to complete the registration process.
Presentation Days (5th and 6th of October):
Authors are requested to proceed to the 12th floor on the designated presentation days.
Ensure that you arrive at your session room well in advance to set up and familiarize yourself with the equipment.
Gala Dinner (5th of October):
Join us for a memorable Gala Dinner on the 5th of October at 20:00.
It will be an excellent opportunity for networking and socializing with fellow participants.
The venue details will be provided on-site.
Virtual Attendance:
For authors participating remotely, please follow these guidelines:
Thematic Code Sessions:
Identify the thematic code session corresponding to your presentation topic.
Refer to the conference program to locate your session.
Zoom Meeting Rooms:
Access the Zoom link provided for your thematic code session.
These links will be available on the schedule page of the conference website.
Preparation:
Ensure you have a stable internet connection and all necessary presentation materials ready.
Join the Zoom meeting a few minutes before your scheduled presentation time to test your audio and video.
Interaction:
Engage actively in the virtual session, ask questions, and participate in discussions using the chat or Q&A features.
We value your participation and look forward to an enriching conference experience for all attendees, whether virtual or physical.
Should you have any questions or require further assistance, please don't hesitate to contact our conference organizers. Thank you for your contribution to the success of this event.
Best regards,
Prof.Dr. Nuno Mateus-Coelho
Organization Chair
iSCSi 2023
General Schedule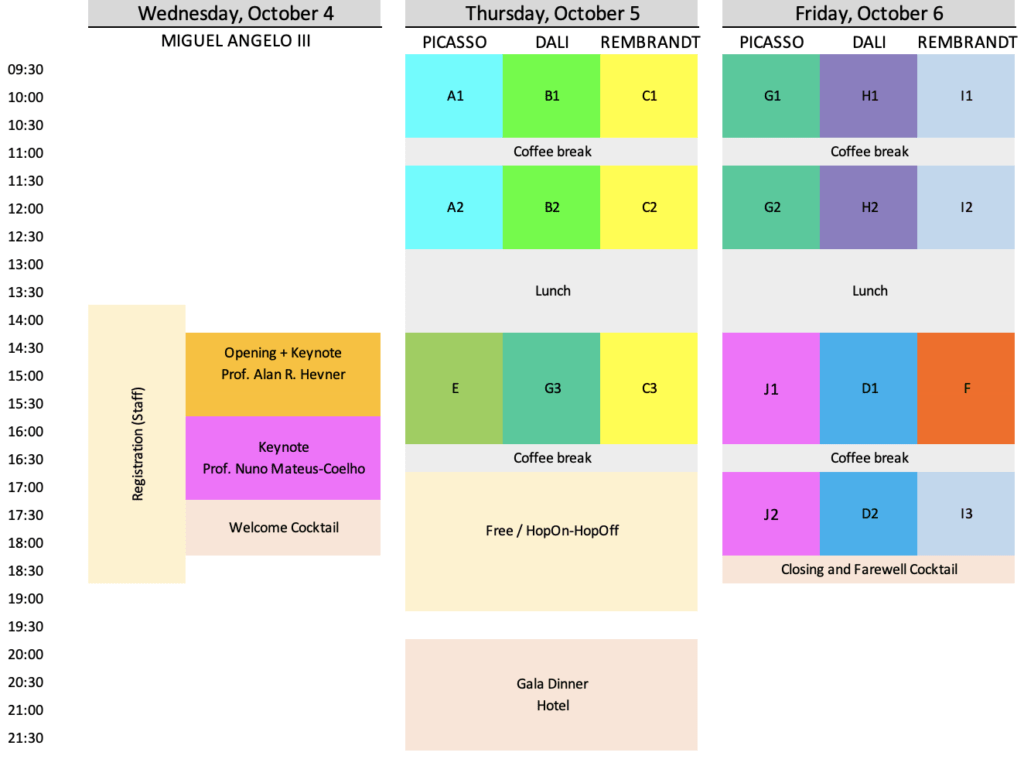 Program 2023
Picasso Room – Please click here!
Salvador Dalí Room – Please click here!
Rembrandt Room – Please click here!
Auditorium Miguel Angelo II – Please click here!